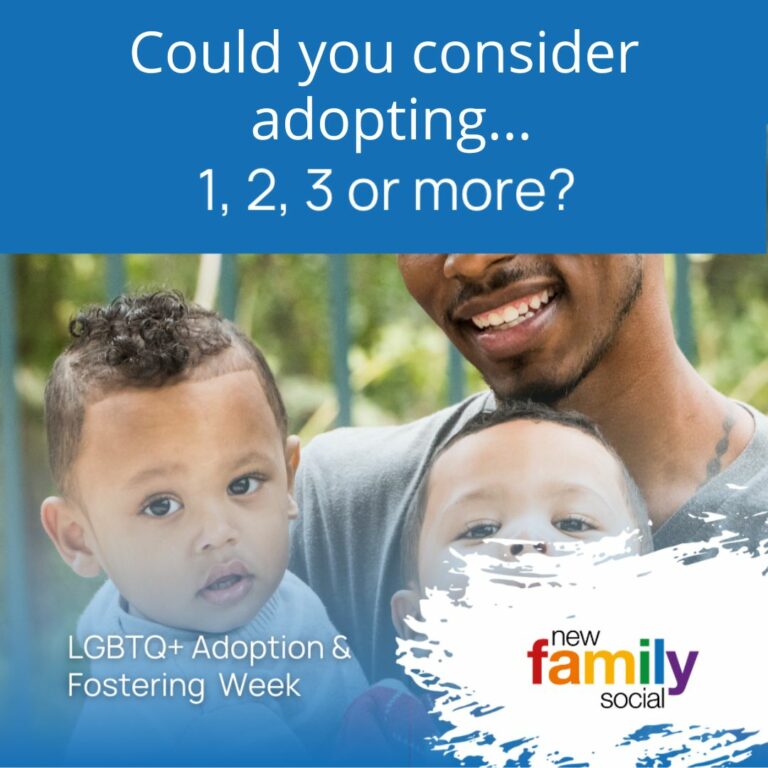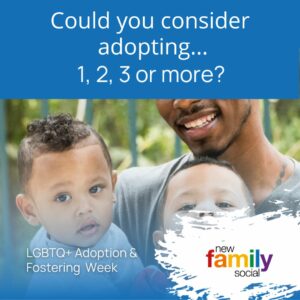 Now in its 11th year, LGBTQ+ Adoption & Fostering Week 2023 (Monday 6 March to Sunday 12 March) remains the only campaign to focus on LGBTQ+ people. LGBTQ+ adoptive parents now represent the second largest group of all adopters in England. One in six adoptions were to same-gender couples.
We are part of the campaign that asks LGBTQ+ people to consider adopting or fostering brothers and sisters, or single children. Research by the BBC in 2020 found that more than half of sibling groups in care are split up. In some cases this is because the children need separate care. In others, it's because of a lack of foster carers or adoptive parents who can care for siblings.
One, two, three, or more? is the theme of LGBTQ+ Adoption & Fostering Week 2023 and with record numbers of looked-after children across the UK, there's never been greater need for more LGBTQ+ people to consider adoption or fostering.
Matthew and his husband adopted a little boy
They met other adopters that helped with their anxieties. They found the matching process the hardest.
"We put ourselves forward for a few children but then we trusted our social worker and he found us our little boy."
Here, local adopter Matthew shares their adoption journey.
I have questions about adoption, where can I find out more?
Here are some questions from LGBTQ+ people about adoption that we've answered.
Use our 'Ready to adopt?' checker to learn more about who can adopt and when the time might be right for you.
Each day New Family Social, Adopt South West and Fostering Devon will be sharing information, stories from LGBTQ+ adopters and posts on social media.
Kath Drescher, Head of Adopt South West, said:
"We welcome LGBTQ+ adopters in the South West. Research tells us that children thrive in LGBTQ+ families and at Adopt South West we have some great LGBTQ+ parents, and with great parents come great families for our children.

"There are children all across our region looking for loving homes and many are primary school age children, or brothers and sisters. No matter their background, all they need is their forever family to change their life.

"We want children who haven't had an equal start in life to have an equal chance in life. Love, time and commitment to a child are three of the most important attributes you can have to adopt a child.

"If you've been thinking about adopting, on your own, or with your partner, then we'd love to hear from you and look forward to welcoming more people into our Adopt South West family."
Supporting podcasts
Further information
If you are considering adopting a child, please do contact our friendly Adopt South West team and you can find out more
More information on who can foster is available through our local authority websites:
LGBTQ+ people can also find out more about their fostering and adoption options at on the New Family Social website.