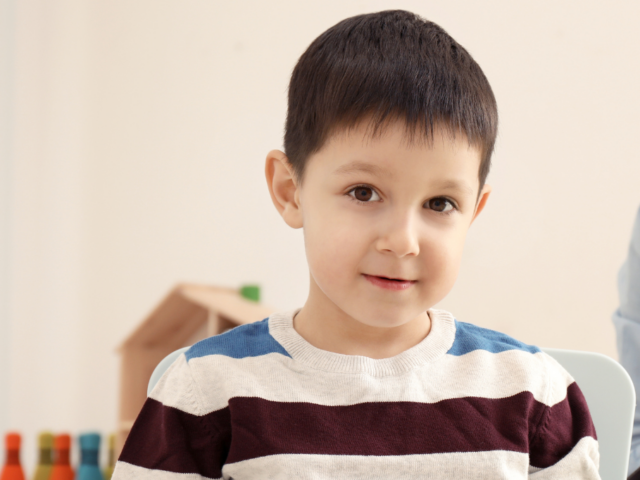 "I'm Lewis and I'm six years old. I enjoy meeting new people; I like to greet them and give them a smile. I really love stickers and playing. I like going out with my foster carers visiting places and going to the park. At home I like to watch TV, look at books and do activities like decorating biscuits."
---
What do the people who care about me say?
Lewis is a happy and active little boy. He's loving, affectionate and has the most beautiful smile which lights up his face. Lewis has autism and has delays in communication, social development and social skills but he has made progress in all areas. Lewis is talking more and more and learning things, such as colours, numbers and the alphabet, which is so rewarding caring for him. He's doing really well at school and enjoys swimming with school.
You can help Lewis by…
having two people with me when out and about to keep me safe
providing me with opportunities to explore my interests and develop my communication
helping me with all aspects of my basic care. I am able to wash myself and use a for
giving me lots of love and affection
parenting me therapeutically
supporting me to stay in contact with the important people in my life and understand the loss and separation I will be experiencing
supporting me with my life story by talking to me about it and continuing to add to it
Help and support available can include:
a copy of your child's permanence report
a 'life-story' book to help your child understand their early life
a summary of your child's health from Adopt South West's medical adviser
Adoption Support Fund to pay for essential therapeutic services
an assessment of your child/ren's needs from Adopt South West
a means-tested adoption allowance until age 18 to provide ongoing financial support for prospective adopters to continue to provide a high level of care and support
referral by local council to the local council's Children with Disabilities Team in home area
referral to local Speech and Language Team
Education Plan for Adopted Children, virtual schools
free or subsidised courses, clinics and workshops  regularly run by Adopt South West
support from our Letterbox Service team with ongoing contact with birth family
we can ask about: Disability Living Allowance (DLA) for children from GOV.UK
we can ask about: Carer's Allowance from GOV.UK
and usually for brothers and sisters, we can look at a Settling In Allowance from the council to help you buy additional items, such as two beds or even three!
Funding and resources do change. It is best to check directly with source for up to date information or contact us.
You can adopt
Considering adopting? There are very few barriers to adopting. If you can open your heart and your home to a child, we want to hear from you. There are safeguarding checks and there is a process but we don't judge by lifestyles. We will support you all the way through the adoption process and beyond. Make the first step to adoption and please do talk to a member of our friendly Adopt South West team today.
---