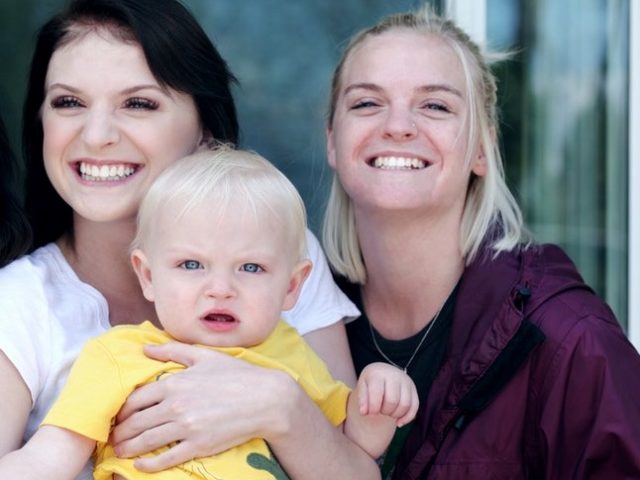 After three failed IVF attempts and many years talking about becoming parents Mandy and Zoe, from Somerset, took the first steps to become adoptive parents, but their concern was how their small community would react to two mums adopting.
Did they have what it takes to adopt?
Mandy shares their adoption story…
---
We had always talked about becoming parents and after three failed IVF attempts we decided to go to an adoption information session. We came away feeling positive and that this would be a good choice for us.
As child carers ourselves, we had spent our whole adult lives looking after, loving and caring for other people's children and we were looking forward to experiencing parenting for ourselves. Putting all of our experience in to nurturing a child of our own.
Our first concern about adopting was could we do it?! We had attended a number of workshops and heard difficult stories about traumatised children.
Did we have what it takes to help a child with a possibility of any number of problems? Our social worker reassured us we had everything it takes.
Our other concern was how our small community would react to two mums adopting, how would our child be treated. After much discussion we decided that it was their problem; not ours.
If people can't see how much we love our child and how happy they are then they need to deal with it. It's people like us that break the stigma of it being wrong for people from the LGBTQ+ community to have children.
Adoption has changed us. It's a tough process. You are asked to talk about things you never thought you would discuss again. Things about your past, things about your family.
You have to be honest with your social worker so an accurate picture of you is painted.
There are many emotional times that come during the process, many lows, it's not easy. But you come out stronger and the end result is so worth the wait.
Our social worker was great throughout and got to know us really well. Since our son came home his social worker has been amazing at supporting us. We've always got the odd question for her and she is always happy to answer them!
Six months on, the rewards speak for themselves. Our son has gone from a baby (he was developmentally behind) to being a happy, loving little boy. He amazes us with his progress each and every day.
It's been hard work, he has attachment issues, he has aggressive tendencies, he is a whirlwind most of the time. But, we wouldn't be without him and we wouldn't have him any other way. He is our reward. He makes us smile every day and it makes us proud to be his Mummies.
Names and locations have been changed for privacy.
---