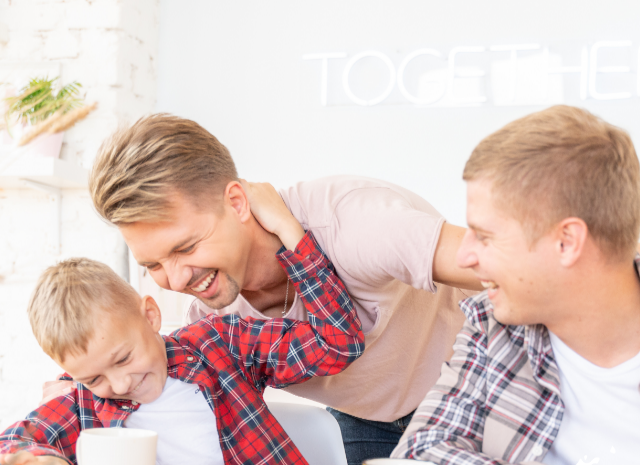 Matt and Scott from West Devon talked about being parents for a while and felt that, instead of surrogacy, it was time to give a child a loving home. Matt shares their adoption story with us.
---
Our adoption story began a few years ago when we made that great first-step to become adoptive parents. My partner and I had talked for a while about becoming parents, however, being a same sex couple it is not possible to go down the conventional route of having children. We had a few friends who had offered to be a surrogate for us, and after great discussion, we both felt that after growing up in loving families ourselves it was time to give something back and offer a child who currently was in care a loving home.
We attended an adoption information evening and met our social worker and as a result filled in a registration of interest form to start our journey,
We were both looking forward to passing down our own morals to a child. We both knew that being a parent would be the most amazing yet challenging experience that we would ever have and were very much looking forward to being able to nurture a child of our own
What was your biggest concern before adopting?
No-one is ever fully prepared for what being a parent actually entails until you are one. There is no manual to tell you how to go about it. We had also heard lots of different stories about how long the process would be and what it would entail, however, once meeting with our social worker she was able to clearly explain the stages which you pass through on your journey.
We have the most amazing little boy who we both love unconditionally. He has brought so much joy to everyone that he meets.

It has made me particularly reflect upon what is important in life.
I have had to learn how to work in a different way. For example, as a teacher I bring work home every day but now I complete this when our little man has gone to bed. Before adopting, I would often walk in the door at 6.30pm. Now, I try to be at home at least by 5.30pm so I get to spend time with him before he goes to bed.
Do you feel well supported?
Our own social worker has supported us amazingly throughout the process. Her font of knowledge has guided us incredibly well throughout the journey. During our journey, we came across a number of barriers however she was always there to support us, guide us and encourage us on our way. Even now that we have adopted, we hear from her regularly and she is only a phone call away. In addition, the training you receive enables you to network with other adopters who also, as well as your own friends, become your support network.
What is the most rewarding aspect of adoption?
The fact that you are making a difference to a child's life. Being able to provide a child with a safe and secure loving home makes it so rewarding. We have already shared so many of his developmental stages with him in a short time and it's amazing to think that you have been influential in these.
What makes you smile?
I feel proud of our little one each and every day. Every single morning, I get greeted by the biggest smile and being called daddy constantly makes me smile.
I am also most proud of my partner Scott, who having had not much experience with young children, has become the most amazing dad that anyone could ever ask for.
Our advice to prospective adopters is:
Be open and honest at all times with your social worker right through the process even if you think that what you're disclosing about your past might impact your chances to adopt.
Take opportunities from the training days to network with other prospective adopters; We have made some friends who will be friends for life.
Be patient; the process can seem long at times but it really is worth it.
Resilience is key; if you get a knock back, brush yourself off. We did several times but now we have the most precious little man who is our entire world.
Names and locations have been changed for privacy.
---