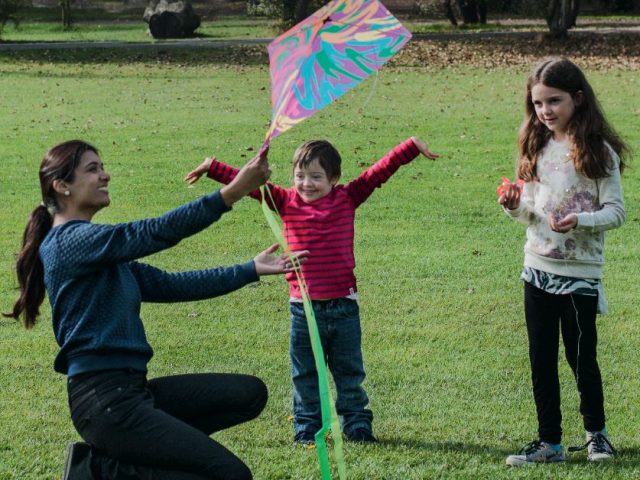 Abeer and Mike live in Exeter and always hoped that they could adopt siblings as they feel strongly about childhood and siblings. They adopted their daughter at 13 months old and her brother five months later when he was four months old.
Abeer shares their story.
---
When my husband I became aware that we couldn't have our children naturally we decided that, with so many children in care without a family, we could build our family through adoption.
We first enquired about adoption at an information day and came away feeling excited that adoption could really be for us, so we started the adoption process. For us, the process took 2 ½ years. This was because we had a break during the process and some slowing down due to staff shortages. Although this was frustrating at times, we were enjoying our time together and concentrated on building our family home, travelling and work. We also prepared ourselves more and more by reading and exploring what it means to adopt.
What did you think adoption would be like?
It's hard to say because it feels a long time ago now. Until you have adopted your children you really don't know how it's going to be. Throughout the process you are told endless adoption stories, many of which are negative and tough to hear.
You need to be positive as well as realistic. However, when we met our children for the first time I was completely overcome with the feelings of joy and love. Nothing really prepares you for this.
What's life like now?
The reality of our life now is pretty much the same as most families with two little ones. We are a family. We have had our daughter for two years and our son for nearly two years. They were both very young when they came home to us and, as little ones do, they make their voices heard and before you know it you are a family. Our extended family, friends and neighbours are wonderful and adore them, and have done from day one.
The difference between us and other families is we are a family through adoption. At the start I used to go to playgroups and feel the need to tell other parents that my children were adopted. I no longer do this. They are my children and that's that.
We talk about adoption to our daughter and son. Our daughter has started to have some understanding. It's important to us that we install honesty, trust and openness within our family and we vowed to start this immediately. We know that there will be challenges ahead when the children start to question their identity and where they are from. Our hope is that we provide enough love, caring and self-esteem for our children that they are able to cope with their birth history and be able to turn to us or other family/friends for support.
Our only life experience to adopt was our love for children, families and knowing that we had the ability to care and empathise. This is what the adoption process enables you to understand. My husband and I were fortunate to grow up in a close family with siblings.
We both dreamed and hoped that we could adopt siblings if possible as we felt strongly about childhood and siblings.
What advice would you give?
Stick with the adoption process. Allow yourself to get frustrated, saddened or even angry at what you might hear or feel.
Believe in the children, the importance of family, laughter, and the shining light which is your child or children.
Our children were meant to be with us and our process took us to them. Stay as open-minded as you can, trust in your instincts and what you feel is right for you and those around you.
Names and locations have been changed for privacy.
---