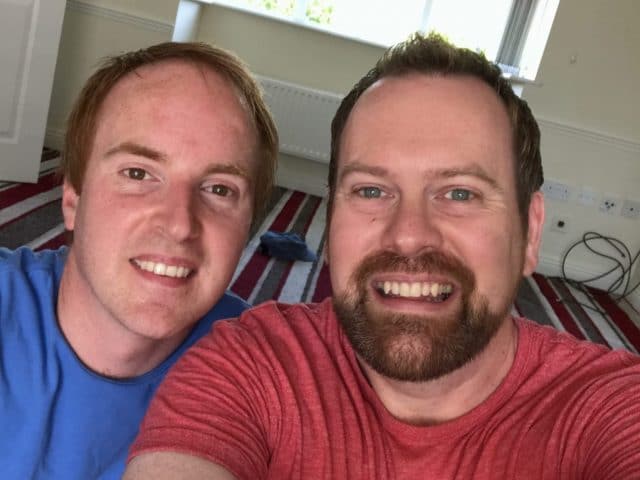 Lee and Mark from Barnstaple adopted two children a few years ago, and share their adoption story with us.
---
We first met through a love of local theatre. Am dram at its finest in fact. We got married in 2007 and have made a good life for ourselves in the meantime.
As we settled down into our life together we occasionally had conversations about kids and although we doted on our substitute spawn (our two gorgeous greyhounds) there was always a feeling that we could be so much more as a family.
It was when we were on holiday with our close friends that we had some 'deep and meaningful' chats that led us to put in our application to become adopters. It took a while for us to make the decision, but once it was made we committed ourselves to the process and threw ourselves into whatever was to follow.
Any preconceptions about the adoption process?
I guess a few words about our preconceptions of the adoption process would start off our thinking at this point. For us, failure was not an option. Maybe we were being a bit cocky, but we approached the adoption process like it was a foregone conclusion.
If we set our minds to something together, we'll get it done. We also anticipated that we were going to have to lay ourselves completely open to some complete stranger (and how uncomfortable might that be?!?!).
And then there was the time frame. We had read a few things that made us think this would be a long process that could take years. Well, that was before we went to an 'introduction' meeting that gave a bunch of prospective adopters an overview of adoption and how the thing worked. That's when we learned about the new targets set in place to ensure a more efficient path to approval.
Naturally we decided that we would push hard to get ourselves through and not be 'forgotten on the bottom of the pile'. We needn't have worried as our assessing social worker was excellent and pushed us as hard as we pushed her!
From a timing point of view, we initially applied in the February, got approved in the June and in October our first bundle of joy (and poop) arrived. In retrospect that's really quick, but while you're in it, it seems forever.
The highs and lows through the process
Well in the couple of training sessions we attended, we learned lots of very depressing information about kids in need and more than a few tears were shed. We were also exposed to various scientific experiments in attachment which both opened our eyes and worried us.
Surprisingly, the bit we were most anxious about was the intensive 'interview' sessions with our social worker. We knew they would be intense and intimate, but they actually strengthened our resolve that we were making the right decision. It was through those sessions that we were able to explore the aspects of support we might need and the things that scared us (and how we planned to overcome them).
And you know what never seemed to come up?
The fact we're two guys. I don't know what I expected, but at no point was there any issue (beyond how would you support your daughter when she has questions about 'female issues'). Because it wasn't important. What was important was whether we would be good parents, whatever gender combination.
And the biggest thing…
I think that the biggest thing to take away from our experience is to be open and honest about your situation and feelings with your social worker and, in a very cliched way, yourself.
Our kids have been with us for a couple of years (where did the time go?) and so far the few problems we've had are the same problems any parent has, but we keep returning to the strength of our partnership and our awesome support network and nothing seems impossible. Love our little guys!
Names and locations have been changed for privacy.
---